Our Management Team

Henry Scott, President
Henry Scott opened the original Carpets by Henry store in Greensboro, North Carolina in 1976. His reputation for expert installation and his personal guarantee of customer satisfaction has guided business growth throughout the years. Today, he and his beautiful wife Judy manage our operations, along with their family members. We are proud of being a family-owned and operated local business who works hard to offer customized flooring solutions throughout the state of North Carolina.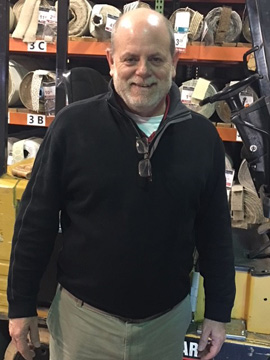 Grady Scott, Operations Manager
Grady is Henry's brother and a 20+ year tenured employee. He knows the operation side of our business in side and out. Grady originally joined the team by helping Henry install flooring. Today, he oversees all of our installation teams, our customer service issues & our installation/repair schedules. He loves spending time with his wife & daughter when he is not at work.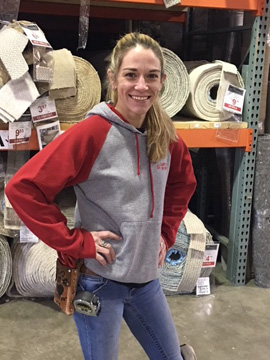 Emily Scott, Rug & Warehouse Manager
Emily, Henry's daughter also has been around the company since she was a child. Today, she manages our rug operations, our warehouse & our shipping/receiving. Emily not only enjoys fabricating rugs but enjoys being innovative with organizational ideas which help things run smoothly. Emily enjoys spending time with Lily, her daughter; who is the next generation of our company. You will often see Lily in our TV commercials and can often catch her dancing or cart wheeling in our showroom.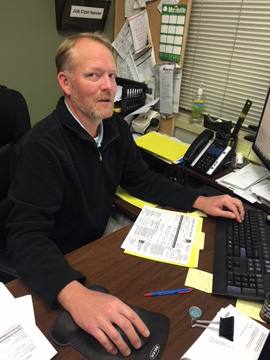 Eric Marsh, Controller
Eric is our in-house Controller, who we fondly call Mr. Sunshine. Eric spent time in the Army and also has a Business Administration degree from High Point University. He manages our order entry, inventory, accounting & finance. Eric has been with company for 12 years and continues to help us run as efficient as possible.
Our Sales Team
We operate showrooms in Greensboro and in Winston-Salem, in addition to a small satelitle office in Durham. We pride ourselves in having some of the most knowledgeable and professional team members within the communities we serve. The list below is in alphabetical order by first name.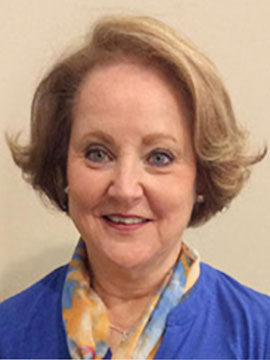 Cynthia Markham, Interior Designer
Cynthia Markham is a well-known professional interior designer in the Triad. She is a graduate of UNC-Greensboro with a degree in Interior Design. Cynthia is an expert in selecting color, texture, and style. Even though she is semi-retired she does work by appointment. She & her husband Johnny, enjoys watching NC State play any sport as well as spending time with her family; which consists of some mighty sweet grandchildren.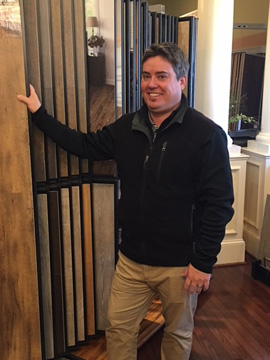 Darin Swink, Account Executive
Darin is a Greensboro native and alumni of UNCW. He manages our insurance replacement program in addition to working with many of our custom builders and designers. At Carpet One By Henry for over 9 years…Darin has developed a strong attention to detail and a wide knowledge base of floor-covering solutions. Darin enjoys spending time at the coast…and with his young family in his free time.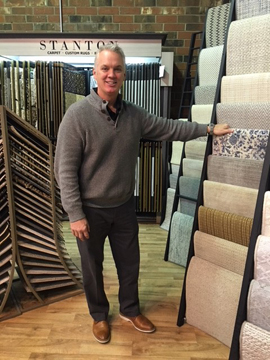 Jeff Edwards, Account Executive
A native of Eden, Jeff literally grew up in the rug business. Jeff came to our organization, after working with Karastan Rugs. With more than 20 years flooring covering experience, he's an expert on various flooring solutions for your home. Jeff oversees our rug gallery for both showrooms and works directly with the management team to help us make good decisions on the various types of rugs we need to bring in our fold. He & his wife Lisa love to travel during their days off.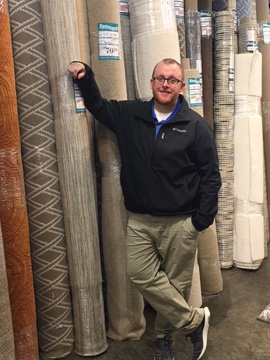 Matt Johnson, Account Executive
Matt is a Greensboro native who loves Duke Basketball. His eye for detail shows, as he discusses new flooring options with his customers. Matt takes the extra step to ensure that his customers know all about the flooring that he is suggesting as well as what to expect during the installation timeframe. When Matt is not at Carpet One By Henry, he is spending time with his wife Jenna and their children or he may be coaching recreational basketball or playing on a men's recreational softball league. He is an avid sports & tennis shoe freak.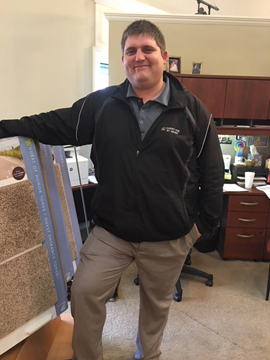 Travis Haskins, Account Executive
Travis is our gentle giant. He started with Carpet One By Henry and has been learning from the ground up. Today, he is well versed in all types of flooring solutions and always adds a bit of humor to his customers' days. Travis is an avid golf fan and loves spending time on the course, when he is not helping his finance' Olie, plan their 2018 fall wedding.
Our Operations Team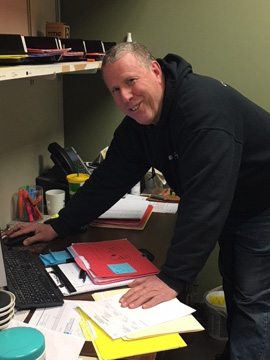 Kevin Ritter, Installation Scheduling
Kevin is the guy who will call you one all of your installation material has arrived and is ready to be scheduled. He plays a critical role in getting our installation crews out every morning to ensure that they are able to show up on time to your time for carpet installs, stair runner installs, for vinyl installs, for tile installs and for hardwood/luxury vinyl plank installs.
Jeff, Roger & Alvaro, Our On-Site Rugrcafters
These guys literally work on their knees most of the day. They are cutting, seaming, binding or repairing customers' rugs. Customization is one of our key specialities and these guys are the ones that make it happen. You can come into our showroom and choose a piece of carpet, choose your size & choose your rug's finish and within 2 to 3 weeks it can be delivered to your home.
Bruce & Samir, Our Warehouse & Delivery Guys
These are the guys that not only handle transfers between our showrooms, but are also the ones that deliver rugs to our customers' homes. They take great care in moving furniture in order to roll out your rug pag and rug to meet your specifications, before replacing furniture back to its rightful place.